I oversaw much of the production but had to move onto another project before this ended, luckily, Alvin Bae came to the rescue and helped finished the spot. This project was challenging since we never fully produced realistic characters before and it was a tight schedule. Our basic method came down to this… 3d characters with 2.5d environment. There was a still shoot of the bar which the compositors lead by Nick Tanner, reprojected to re-create the space. We would pass Nick the basic camera moves and he would finish them in nuke. 3d would import the latest camera from nuke and render.
Each character went through a basic pipeline of anatomy modeling, animation rig, hi-res character model and rig, shade/fur groom, animation, lighting and render.
MiO "Nose Job" from Psyop on Vimeo.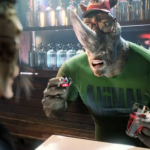 Credits»
Similar Posts:

Client: MiO Energy
Agency: TAXI, New York
Executive Creative Director: Dave Clemans
Creative Director: Stephen Leps, Michael Pierantozzi
Copywriter: Tim Wassler
Art Director: Phillip Cho
Producer: Joyce Lee, Holly Flaisher
Director: Psyop
Production Company: Psyop/Smuggler
Psyop Creative Directors: Eben Mears and Jon Saunders
Executive Producer: Lydia Holness
Producer: Michael Neithardt
Assistant Producer: Anu Nagaraj
Designer: Naomi Chen, Ram Bhat, Annalisa Swank
Lead 3D Artist: Pakorn Bupphavesa, Alvin Bae
Lighting Lead: Jonah Friedman
Lead Animator: Pat Porter
Lead Nuke Artist: Nick Tanner
3D Artists: Zed Bennett jr., Bryan Eck, Dave Chen, Joerg Liebold, Shant Ergenian, Andy Hara, Will Robertson, John Payne, Phill Avanzato, Denis Kozyrev, Larry (Ngai Man) Leung, Dan Fine
3D Animators: Stephanie Russell, Anthony Travieso, Kevin Scott, Douglas Litos, Danny Speck, William Frazier
Nuke Artist: Thomas Panayiotou, Jason Conradt
Editor: Cass Vanini
Storyboard Artist: Robin Nishio

Powered by Hackadelic Sliding Notes 1.6.5